Your wedding day is one of the most special days of your life, and you want it to be perfect in every way. From the dress to the flowers, every detail should be carefully chosen to create a beautiful and memorable occasion. If you're looking for a venue that offers romance, elegance, and breathtaking views, then a vineyard wedding might just be the perfect choice for you. Here are some reasons why vineyard weddings are the most romantic and picturesque choice for your big day.
Stunning Scenery
Vineyards offer some of the most stunning scenery in the world. With rolling hills, lush greenery, and rows of grapevines stretching out as far as the eye can see, vineyards provide a backdrop that is unforgettable. Whether you choose to have your ceremony overlooking the vineyards or in the middle of the vines themselves, you're guaranteed to have a stunning and unique setting for your special day.
Intimate Setting
Vineyards are often smaller and more intimate venues compared to traditional wedding venues, which can add to the romantic atmosphere. Your guests can mingle and enjoy the wines while taking in the scenery, immersing themselves in the beauty of the surroundings. The smaller setting also allows for a more personal and connected experience overall.
Food and Wine
A vineyard wedding offers guests the opportunity to experience some of the finest foods and wines available, creating a culinary experience they won't soon forget. The wine selection at vineyards is typically exceptional, as it is produced right on site. The catering options are also top-tier, with farm-to-table cuisine being a popular trend among vineyard weddings.
Unique Experiences
Vineyards offer unique experiences that can't be found at traditional wedding venues. Guests can take a tour of the vineyard, participate in a wine tasting, and perhaps even harvest their own grapes. These one-of-a-kind experiences create memories that will last a lifetime and add an extra touch of magic to your special day.
Tips and Advice for a Vineyard Wedding
If you're thinking of having a vineyard wedding, here are some tips and advice to help you plan your dream day:
1. Choose the Right Season
Keep in mind that vineyards are living, breathing landscapes that change with the seasons. If you're looking for lush, green scenery, choose the spring or early summer months. If you're seeking a more rustic and romantic feel, fall is the ideal season, when the leaves on the grapevines turn to stunning shades of red, orange, and yellow.
2. Keep It Simple
When planning your décor, consider letting the scenery work its magic. Less is often more when it comes to a vineyard wedding, as the vineyard itself is already stunning. Opt for simple, elegant décor that doesn't compete with the natural beauty of your surroundings.
3. Dress Accordingly
Keep in mind the terrain and weather when selecting your bridal attire. Heels may sink into the soil, so consider wearing flats or wedges. If having a wedding in the summer, make sure to bring parasols for your guests, and plenty of water.
4. Music Choices
Acoustic or classical music is ideal for a vineyard wedding. Keep things low-key and intimate as the scenery provides romantic and breathtaking beauty.
5. Lighting
As the sun goes down, lighting becomes an important part of the ambiance. Candles, lanterns, and string lights create a romantic atmosphere that is perfect for your vineyard wedding. Soft candlelight mixed with the natural light from the stars and moon will create a picturesque setting.
Summing It Up
A vineyard wedding offers everything you could want in a romantic and picturesque wedding. From the stunning scenery to the one-of-a-kind experiences, a vineyard wedding is a perfect choice for those who want an intimate and elegant occasion. Follow our tips and advice, and you'll be sure to have a day that is unforgettable for you and your guests.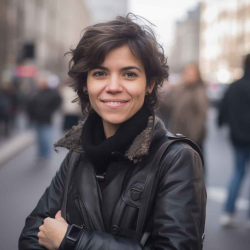 Últimas entradas de Luna Miller
(ver todo)