Change up Your Look with These Incredible Eye Shadow Techniques
When it comes to makeup, the eyes are the most noticeable feature on your face. It's no surprise that when most people think about makeup, they think of eye shadow. Eye shadow is a versatile cosmetic that can transform your look entirely. With the right technique and tips, you can create a stunning and customized appearance that accentuates your natural beauty.
In this article, we'll walk you through the best eye shadow techniques to help you take your makeup game to the next level. We'll cover a range of styles, from classic smoky eyes to bold cut creases.
Prep your Eyelids
Before applying any eye shadow, prepare the area by moisturizing and priming your eyelids. Hydrating your eyelids will prevent your skin from looking dry and flaky. It will also make the application smoother.
After applying your favorite eye cream or face oil, apply a primer. Priming the eyelids creates an even canvas and helps the eye shadow last longer.
Classic Smoky Eye
The smoky eye is a timeless and glamorous look that anyone can pull off. This technique involves blending a gradient of colors to create a smoky look that fades from dark to light.
The first step in creating this look is to apply a neutral base color all over your eyelids. Then, use darker shades to create a gradient effect. The most common shades to use for a smoky eye are black, gray, and brown.
Start with the darkest shade, apply it to the outer corner of your eye and blend it into the crease. Then apply a medium shade into the center of your crease and blend it outward. Finally, use a light shade to blend in the inner corners of your eyes and under the brow bone.
Cut Crease
The cut crease technique is great for creating a bold, defined look. It involves using a concealer or foundation to carve out a sharp line on the crease of your eyelid. This technique creates an illusion of larger-appearing eyes and can make the eyelids look more lifted.
Start by applying a neutral or light base color to your eyelid. Then, use a small brush to apply your concealer or foundation on your crease. Create a sharp line by carefully blending out the concealer or foundation with an angled brush.
After creating a sharp line, apply a light to medium shade onto your lid and blend it up to the crease line. Use a darker shade to blend in the outer corners of your eyes and under the lower lash line.
Cut Crease with Glitter
If you want to add a little bit of sparkle and glam to your cut crease, then this is the technique you need to try. The cut crease with glitter involves applying glitter in the center of your eyelid to create a glamorous look.
To get started, apply a neutral-toned base color all over your eyelid. Then use a concealer or foundation to carve out your crease. Use a small brush to apply a glitter adhesive on the lids and then use a small brush to apply the glitter onto the center of the eyelid.
Blend the glitter outwards to create a gradient effect. Lastly, use a black or dark eyeliner to draw a thin line on your eyelid and finish up with a coat of mascara.
Double Winged Liner
The double-winged liner technique entails applying a regular eyeliner on your upper lash line and adding another winged line beneath the first one in a downward direction. The double-winged technique adds to your lash length, making your eyes appear more extended.
Begin with a regular eyeliner on the upper lash line, and create a small wing at the outer corner of the eye. Then draw a second winged line beneath the upper winged liner, following the curve of the lower lash line. Connect the two lines and fill in the space.
Go over the top wing to ensure it's clean and precise. The rest of your makeup should be kept neutral to let your eyes do the talking.
Conclusion
By now, you're armed with some exciting techniques that can help you achieve stunning looks with your eye shadow. These techniques range from bold and dramatic to chic and minimal. To master these looks, practice is key.
It's essential to remember that the products you use, the quality of the brushes, and the skill used to apply the makeup affect the final outcome. So, take your time, be gentle, and have fun while learning. And remember, with the right tools and techniques, your eye makeup game will sky-rocket in no time.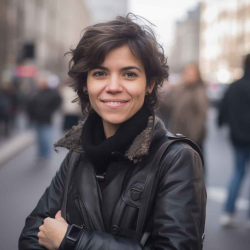 Últimas entradas de Luna Miller
(ver todo)