Are you tired of the same old look of your living room and looking for ways to spice things up? Look no further as we have got you covered with some simple yet stylish decoration ideas that can help transform your living room into a haven for you and your family.
1. Start with the Walls
The walls are the first thing that people notice when they enter a room, so it's important to make sure that they are visually appealing. Repainting the walls with a new color can instantly give your living room a fresh and inviting feel. If you're looking for something more subdued, go for neutral colors like beige or gray. If you want to make a bold statement, try painting one accent wall with a bright color or a wallpaper with a unique pattern.
2. Add Some Greenery
Plants have the ability to not only purify the air but also add a touch of nature to the living room. It's a great way to bring life to the space without spending too much money. You can choose plants that suit the amount of natural light in the room and don't need too much care. Some popular indoor plants like the snake plant, spider plant, and rubber plant, add style and a touch of elegance to your living room.
3. Choose Suitable Lighting
Lighting is an essential aspect of the ambiance of a room. So, it's important to choose the right lighting for your living room. A mix of different light sources provides depth and adds interest to a room. Place a few table lamps and floor lamps in various parts of the room to create a warm and inviting ambience. You can also place some candles on the coffee table for a romantic vibe.
4. Introduce Artwork
Artwork is a great way to add personality to your living room. Choose artwork that reflects your style and interests, and hang it in a prominent spot. If you have a large wall, you can create a gallery wall with a mix of framed photos, artwork, and other decorative elements.
5. Use Decorative Pillows and Throws
One of the easiest ways to add color and texture to your living room is by using decorative pillows and throws. They can change the entire look of the room by adding pops of color, pattern, and texture. You can choose pillows that match the color of your curtains or the artwork on the wall to create a cohesive look.
6. Rearrange Furniture
Another way to transform your living room is by rearranging the furniture. It's surprising how much difference it can make by simply moving the furniture around. Create a cozy conversation area by placing the seating around a focal point like the fireplace or the TV. Another tip is to choose furniture pieces of different heights to add visual interest to the space.
7. Add Texture
Texture is an important element of interior design. It adds depth and interest to a room. You can add texture to your living room by using different materials like wood, metal, glass, and fabric. For example, you can add a rustic wooden coffee table, a metal side table, and a plush velvet sofa to create a balanced and textured space.
8. Declutter
A cluttered living room can make the space feel cramped and unwelcoming. So, it's important to declutter and organize. Start by getting rid of items that are no longer needed or used. Then, organize the remaining items in a way that makes sense to you. You can use bins, baskets, and containers to store items and keep them out of sight.
In conclusion, these simple decoration ideas can help transform your living room into a stylish haven that you and your family would enjoy spending time in. Remember that the key is to choose items that reflect your personal style and taste. Whether you're going for a cozy and traditional look or a modern and chic vibe, there's always a way to make your living room look amazing.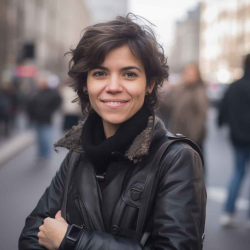 Últimas entradas de Luna Miller
(ver todo)