Your bathroom may not be the most exciting part of your home, but that doesn't mean it should be neglected. With a few decorating tips, you can turn your bland bathroom into a beautiful sanctuary that you will love spending time in.
Here are some great tips to transform your bathroom:
Choose a Color Scheme
The first step in decorating any room is to choose a color scheme. A bathroom is no different. You want to choose colors that complement each other and create a cohesive look. Think about the mood you want to create in your bathroom. If you want a relaxing spa-like feel, choose soothing colors like blues, greens, and neutrals. If you want a more energizing atmosphere, pick brighter colors like oranges, yellows, and pinks.
Add Some Artwork
Artwork is a great way to add some personality and style to your bathroom. Choose pieces that are water-resistant or can be framed to protect from moisture. You can also create a gallery wall with different frames and prints. Make sure the artwork you choose complements your color scheme and overall style.
Upgrade Your Lighting
Lighting plays a crucial role in any bathroom. It can make or break the overall look and feel of the space. Upgrade your lighting with new fixtures or add some dimmer switches for a more relaxing ambience. You can also add some candles or lanterns for a cozy feel.
Choose the Right Shower Curtain
Your shower curtain is one of the biggest focal points in your bathroom. Choose a pattern or design that adds some interest to the space. If you have a small bathroom, avoid busy patterns or choose a light-colored curtain to make the space feel larger. Make sure your shower curtain complements your color scheme and overall style.
Incorporate Natural Materials
Adding natural materials to your bathroom can create a spa-like feel. Think about adding some bamboo or teak accessories like soap dishes, toothbrush holders, and storage baskets. You can also add some plants to liven up the space and add some fresh air.
Upgrade Your Towels
Your towels are not only functional but also an opportunity to add some color and style to your bathroom. Choose towels that complement your color scheme and are made of high-quality materials. Fold them neatly or hang them on a towel rack to add some visual interest.
Add Some Storage Solutions
Keeping your bathroom organized is key to maintaining a beautiful space. Add some storage solutions like shelves, medicine cabinets, or storage baskets to keep your toiletries and towels organized. You can also add some decorative baskets or jars to hold smaller items like cotton balls and Q-tips.
Create a Focal Point
Creating a focal point in your bathroom can add some interest and visual appeal. Consider adding a statement piece like a unique mirror or artwork. You can also tile a feature wall or add some color to create a point of interest in the space.
Conclusion
In conclusion, with a few simple changes, you can transform your bathroom from bland to beautiful. Focus on choosing a color scheme, adding artwork, upgrading your lighting, choosing the right shower curtain, incorporating natural materials, upgrading your towels, adding storage solutions, and creating a focal point. By following these tips, you can create a bathroom that you will love spending time in.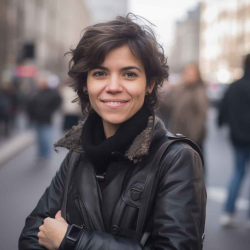 Últimas entradas de Luna Miller
(ver todo)